Dogs do not release heat in the manner humans do since they have a lesser amount of sweat glands and produce sweat only in the areas devoid of furs like their paw pads and nose. When they get too hot, they exchange heat mostly through panting, with vasodilation being another way that causes their skin to flush. During summer taking proper care of dogs is of utmost importance lest it could lead to overheating in dogs, putting them at risk of medical conditions like hypothermia.
Why Would Your Dog Need a Cooling Pad
Though there are several measures for keeping a dog cool, like giving it plenty of water and letting it sit in a room with a ceiling fan, these might not be effective enough if and when the dog needs to bring down its body temperature quickly. A well-functioning cooling pad can come in handy in a situation like that, as it brings down the body temperature rather fast, though in a balanced way, so your pet remains comfortable. When you take your pet out in a car, or for a picnic, such cooling pads can be your instant answer to keep your dog cool and healthy all day.
What are the Different Types of Cooling Pads and Do They All Work for Dogs
The different types vary in mechanism but have the similar purpose of bringing the body temperature of  a dog back to normal within a short time
i) Water-based cooling pads are filled with cold water. Besides providing respite from the heat, they also have therapeutic properties, treating aches and pains in dogs, alongside promoting sound sleep.
ii) Ice pack cooling pads require overnight freezing before being inserted into the mat for use. However, as expected from lying on something frozen, this pack might cause the dog to shiver until the ice starts to melt.
iii) Pressure activated gel pads get activated under the pressure of the pet's weight. These are self cooling as they radiate their heat out whenever not in use, becoming ready to be used again within a few minutes.
iv) Electric pads are another variety though not commonly used as the ones mentioned above. As evident from the name, these are run by plugging into an electric outlet.
What to Keep in Mind While Selecting a Cooling Mat for Your Dog
Durability
Nylon mats or pads have higher durability than rubber or plastic ones. Those that are waterproof, wear, and scratch-resistant also last longer, surviving the dog's attempt to chew or bite it.
Size
The products fitting most standard-sized beds and crates, coming in diverse sizes, are preferable. The mat should be big enough for the dog to stretch comfortably, and yet not too big to make it feel out of place.
Safety
Water-based and ice pack cooling pads are the safest since they are devoid of toxic substances. On the other hand, the gel pad, though claimed as safe by the manufacturers, may harm the dog if they ingest the filling. However, the reaction might not be the same in every dog as in some there may be no side effects at all, while some may get the symptoms of moderate to severe poisoning.
User-friendliness
Those that are easy to clean, sufficing with a simple brushing or wiping, are preferred over mats requiring higher maintenance. Since gel pads have a self-cooling technique, they do not require refrigeration, recharging on their own when not used for 15 to 20 minutes. This makes them ideal for places where you won't have access to a refrigerator, or an electric outlet.
But, besides functioning indoors, the cooling pad must also work well outdoors. And a gel pad is not very suitable for sunny outdoor spots as the gel easily loses its cooling capacity on absorbing the heat.
Portability
Foldable mats or pads are a preferred choice since they are convenient to carry in a car or on outdoor trips. Water and ice pack pads need to be filled and emptied before and after each use. Gel pads are good to use in cars, and its contents require no emptying when taken out. However, you need to store them in a shaded place, away from the direct sun.
Price
Good mats with all the features and a reasonable price tag are always preferable. Water and gel pads are mostly affordable, while the electric ones usually cost more.
6 of the Best Cooling Pads and Mats for Dogs to Keep Them Comfortable
1. Arf Pets Pet Dog Self Cooling Mat Pad for Kennels, Crates, and Beds 23×35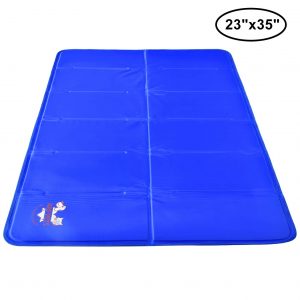 Type: Gel
Average Cooling Duration: 3 hours
Pros:  They are made of latex-free material being an excellent outdoor cooling mat. As they are foldable, one can easily carry them along in cars.
Cons: Some have mentioned their dog's body getting stained from the blue dye, which is a little challenging to remove.
Bottom Line: If you have a heavy chewer at home, then this large mat makes for an ideal choice.
Check Price
2. The Green Pet Shop Dog Cooling Mat – Pressure-Activated Gel Self Cooling Mat For Dogs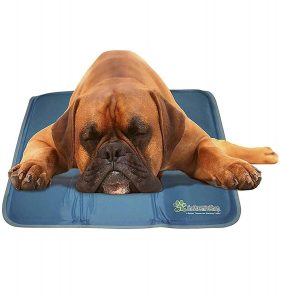 Type: Gel
Average Cooling Duration: 3 hours
Pros: It provides comfort to the pets for a long time and does not require any extra effort to get recharged. They are large cooling pads suitable for big dogs like the Mastiff, Great Dane, and St. Bernard.
Cons: Some have experienced shrinkage of the pad on its sides. The XL pads do not cool as well as the medium-sized ones.
Bottom Line: This mat works well for medium and large dogs particularly those having long coats such as the Golden Retriever.
Check Price
3. AKC Reversible Pet Cooling Mat for Dogs & Cats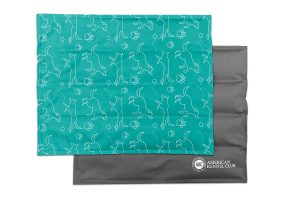 Type: Gel
Average Cooling Duration: 3 hours
Pros: Has a high cooling capacity, giving the pet comfort for long. It is compact and easily foldable.
Cons: The size mentioned on the product could be a little misleading. It is not sturdy enough for canines that are heavy chewers.
Bottom Line: Go for this mat if you make frequent outdoor trips.
Check Price
4. Chillz Cooling Mat For Dogs – Pressure Activated Gel Dog Cooling Mat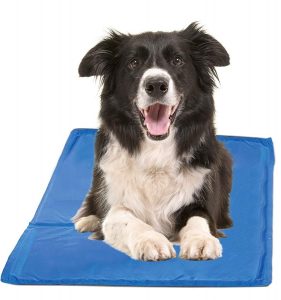 Type: Gel
Average Cooling Duration: 3 hours
Pros: The gel has a comfortable cooling effect, providing the dog relief, especially if it has been panting a lot due to increased heat exposure. It is also easy to clean with baby wipes or even a paper towel.
Cons: They are not suited for bigger breeds like the German Shepherd.
Bottom Line: If you are on the lookout for a pocket-friendly, easy-to-maintain, and lightweight product, then this one could suit your taste
Check Price
5. Coleman Pressure Activated Comfort Cooling Gel Pet Pad Mat, for Medium Pet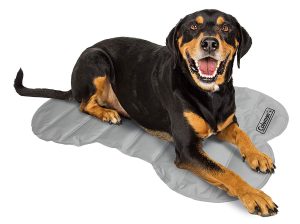 Type: Gel
Average Cooling Duration: 3 hours
Pros: It is durable, sturdy, and portable.
Cons: The gel could leak with the slightest wear and tear.
Bottom Line: The gel has an excellent cooling ability, and if you wish for an easy-to-maintain mat, then this one may be one of your choices.
Check Price
6. K&H Pet Products Cool Bed III Cooling Dog Bed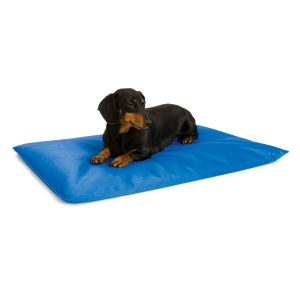 Type: Water
Average Cooling Duration: 3 to 4 hours
Pros: Besides comforting the dog, it also provides added relief to those suffering from hip pain, arthritis, and skin disorders because of its healing properties. One can store this pad full or empty, and it is even easy to clean using wipes or a moist towel.
Cons: Owners have expressed concerns about leakage, while some have also had trouble in filling and emptying it. While using it outdoors, it works better when placed in cold, shady regions, rather than areas directly exposed to the sun.
Bottom Line: These pads are easily affordable.
Check Price
Besides the ones available in the market, homemade cooling pads are an alternative option, which would, however, not have all the features of the readymade ones.