Allergies in dogs may occur because of environmental factors or even as a reaction to what they eat. Food intolerance happens due to their inability to digest proteins and grains, while environmental allergens trigger due to fleas, mites, pollen grains, and cigarette smoke.
The common signs of allergies are itchiness, redness and inflammation, eye discharge, ear infections, sneezing, diarrhea, gassiness, and vomiting. If your pet shows any of these symptoms, consult a vet. He may advise an allergy test to detect the root cause, and also suggest an over-the-counter dog food or even prescribe one.
What to Keep In Mind While Selecting Dog Food for Allergies
1. Source of protein
When the protein sources in the food do not affect the dog's immune system, they are less likely to cause an allergic reaction.
A novel protein source reduces the chances of causing an immune response since it is new to the canine's immune system. Duck and pea; salmon and potato are typical examples of this diet. Lamb is not on the list as it is a primary ingredient in many commercial brands.
A hydrolyzed diet is another alternative option, where the chances of the immune system reacting to allergens are minimum since the proteins are broken into the smallest bits.
2. Base and other ingredients
Grains like rye, wheat, barley, and corn often trigger allergic reactions. Hence, a grain-free diet is a better alternative in such cases. Foods free of gluten do well for allergies, but they are likely to contain grains. However, a grain-free diet has no gluten at all. The FDA recommends a veterinarian consultation before selecting a grain-free diet.
Food with limited ingredients (LID diet) has lesser components with a simplified formula. Hence such a diet provides dogs the right type of nutrients in measured proportions that suits their digestive system well. It mostly has a single protein, and there may additionally be one carbohydrate or one fat source. Though not a mandate to give to dogs during allergies, limiting the ingredients often helps in identifying the main reason behind food intolerance.
3. Food type
Dry dog food is less messy, helps to maintain dental hygiene, and has a longer shelf life. However, if allergic reactions trigger diarrhea, then wet dog food enhances hydration.
4. Price
Foods designed for dogs with allergies are often expensive, particularly those recommended by prescription, like the hydrolyzed diet. Brands offering complete nutrients, allergy-free ingredients, and a reasonable price are preferred over others.
6 Best Dry and Wet Dog Foods for Skin Allergies
1. Natural Balance L.I.D. Limited Ingredient Diets Dry Dog Food, Grain-Free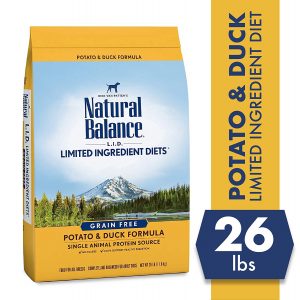 Type: Dry
Protein source:  Duck and potato
Pros: The presence of limited ingredients helps to minimize itchiness and scratching, also stabilizing bowel movements and maintaining a shiny coat.
Cons: Some people have mentioned the ingredients being changed of late, which did not go well with their pet.
Bottom line:  The flavor is liked by many, and it is a good option for picky eaters.

Check Price
2. Hill's Science Diet Dry Dog Food, Adult, Small & Mini Breeds, Sensitive Stomach & Skin, Chicken Recipe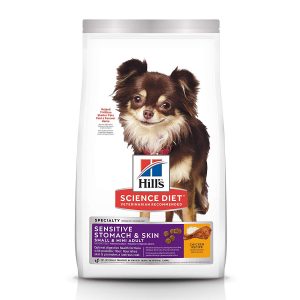 Type: Dry
Protein source: Pea protein, chicken, chicken meal
Pros: The small-sized pellets make it easily chewable for breeds like Yorkie, Shih-Tzu, and Chihuahua.
Cons: It would not suit dogs that are allergic to chicken.
Bottom line: It is low in price and with a rich protein source, being apt for those with allergies.
Check Price
3. Blue Freedom Grain-Free Lamb Recipe Dry Food for Adult Dogs, 11 lbs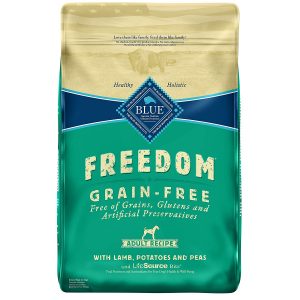 Type: Dry
Protein source: Lamb, peas, sweet potatoes
Pros: The presence of carbohydrates, antioxidants, and fibers makes it more nutritious. It also helps to maintain a soft, fluffy coat for dogs like Beagle.
Cons: Some may not like the flavor, and it is a little costly.
Bottom line: The limited ingredients make it particularly useful for those with ear allergies.
Check Price
4. Royal Canin Canine Hypoallergenic Hydrolyzed Protein Dry – Small Breed (8.8 lb)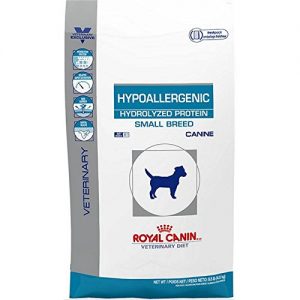 Type: Dry
Protein source: Hydrolyzed soy protein
Pros: A good grain-free dog food for small breeds like Yorkies and Chihuahua. The presence of hydrolyzed soy protein makes it easily digestible.  While the omega-3 fatty acid contained in oils lessens inflammation.
Cons: The price is high, and the kibble size is a little large, often making it hard to chew for small dogs.
Bottom line: Besides controlling itchiness, it works towards nourishing the skin.
Check Price
5. Canidae Under The Sun Dog Wet Food Cups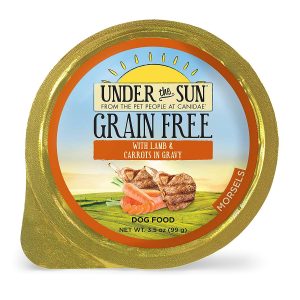 Type: Wet
Protein source: Lamb and carrot morsels
Pros: It is apt for those who do not like chewing dry kibble.
Cons: It is sold in cups, which is a little difficult to open than cans. Some have mentioned their dogs getting stains around their eyes, mouth, and feet after having this food.
Bottom line: Dogs love the flavor, and it is a good choice for picky eaters.   
Check Price
6. Halo Grain Free Natural Dry Dog Food, Senior Turkey, Turkey Liver & Duck Recipe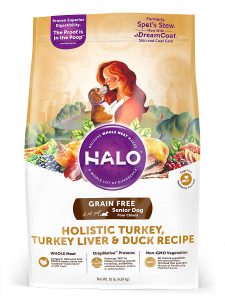 Type: Dry
Protein source: Whole turkey, turkey liver, duck
Pros: The kibble size is small and easily chewable for seniors who lack too many teeth.
Cons: Since it is grain-free, dogs should not be directly put on such a diet before consulting a vet.
Bottom line: The price is moderately low, and the grain-free components would suit those allergic to rye, corn, barley or wheat
Check Price
Most dogs show partial progress in the initial 4 to 6 weeks, though breeds like Labrador Retriever and Cocker Spaniel may take longer to respond. Before implementing an anti-allergic diet, whether it be homemade, often preferred by some in case of severe allergies, or store brought, always take a vet's advice. Also, do notify him immediately if you see your pet behaving in a way that does not look normal after being put on the new diet.